5 Tips for a Thorough Post-Holiday Home Cleaning: Get Your Space Feeling Fresh and Organized Again
After the holidays, it's common for homes to feel cluttered and in need of a deep clean. Whether you hosted holiday gatherings or simply accumulated more mess over the weeks, tackling post-holiday home cleaning is crucial to get your space feeling fresh and organized again. While it may seem like a daunting task, breaking it down into smaller steps can make it more manageable. Here are five tips for getting your home back in order after the holiday season:
Start with the decorations. The first step in post-holiday home cleaning is to take down any holiday decorations and put them away neatly in storage bins. Not only will this make your home feel less cluttered, but it will also give you a sense of accomplishment. As you take down the decorations, make a list of any items that may need repair or replacement. This will help you stay organized and save time and money in the future.

Tackle the kitchen. The kitchen is likely the busiest room in the house during the holidays, and it can also be the most cluttered. Start by throwing away any spoiled food and recycling any packaging. Wipe down counters, appliances, and tables, and don't forget to clean the inside of the fridge and pantry. Consider decluttering your pantry by getting rid of expired or unused items. This will make it easier to find what you need and save space.

Deep clean the living room. After the holidays, the living room is often in need of a thorough cleaning. Vacuum and dust the space, paying special attention to any areas that may have accumulated extra dirt or debris over the holidays. Consider steam cleaning the couch and chairs to get them looking and smelling fresh. If you have hardwood floors, consider giving them a good mopping or buffing.



Wash all the linens. Strip the beds and wash all the bedding, towels, and any other linens that may have accumulated dirt or stains over the holidays. This is also a good time to rotate your mattress and launder your pillows. Consider investing in high-quality bedding and towels to make post-holiday home cleaning easier in the future.

Don't forget the outdoor spaces. The holiday season is often a time of excess, and that includes outdoor spaces like the porch and deck. Take a few minutes to sweep away any dirt or debris and tidy up any outdoor furniture. If you have a fireplace, now is a good time to clean out the chimney and get it ready for use.
By following these steps, you can effectively tackle post-holiday home cleaning and get your space feeling fresh and organized again. While it may seem like a lot of work, the sense of accomplishment you'll feel when you're finished is worth it. And if you don't have the time or energy to tackle this task on your own, consider hiring a professional home cleaning service to help. With a little elbow grease and a thorough approach, you'll be able to enjoy your home and start the new year off right.
Tips & Tricks to Help You Keep Your Kitchen Counters Clutter-Free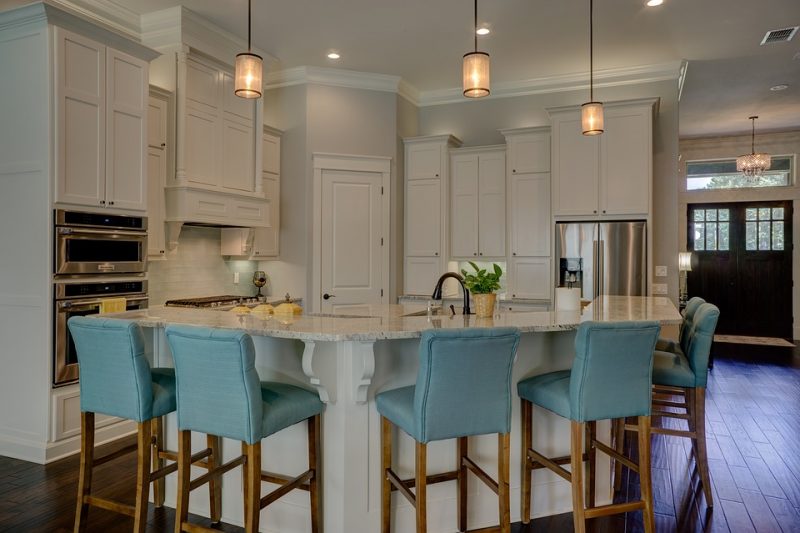 Having trouble keeping your kitchen counters clean and clutter-free? Consider the following tips & tricks to help you stay on the right track and keep things organized in the kitchen.
Use wall space to hang things
The wall is a great place to hang utensils, pots and pans, and even kitchen decor. It's also great for decluttering the kitchen counter. Consider hanging things on the wall instead of leaving them lying on the counter to take up space.
Place appliances under the counter
Once you've finished with the blender go ahead and stash it under the counter in a cabinet so it's out of the way. This will provide you with more counter space and leave you with a clutter-free kitchen. You can do this with like toaster ovens, coffee pots, and again the blender.
Have a junk drawer
Another way to keep your kitchen counter clutter-free is to have a junk drawer. A junk drawer is good to put miscellaneous things in including old papers, mail, stationery, and virtually anything else that can be found floating around on the counter. Just throw it in the junk drawer.
Don't decorate too much
Decorating is fun, but sometimes it can cause more harm than good. Too much decor can often leave your space, in this case, the kitchen, looking more cluttered than clean. Do yourself a favor and limit the decor for a clutter-free kitchen.
Spekless House Cleaning
When you have a family and a career we know it can be difficult to keep things clean and organized the way you would like it to be. That's why here at Spekless we offer the most extensive housekeeping service in the area. Contact us today for a free estimate and see how we can help.