Everything You Need to Know About Cleaning Different Countertops
Have you ever wondered how people maintain immaculate countertops?
A unique countertop goes hand in hand with a unique way of cleaning it.
Some of you may think that vinegar as an all-around cleaner is the best solution, but it may actually cause damage and stains, especially for marble and granite. Cleaning these require in-depth knowledge to avoid unnecessary cost.
Take a look at these common countertops found in most kitchens. If you're still picking a type of counter for your home, this list will definitely help!
1. Butcher Block
Butcher blocks are straight wood pieces glued together, making a very sturdy surface. It has naturally occurring antimicrobial substances in the wood grain that makes it a more sanitary overall choice.
You can use any type of wood to make this type of work surface, but don't forget that proper sealing is important to reduce staining risks. Our perfect cleaning tip is by applying non-abrasive cleaners like mild-dishwashing soap using a sponge​.
You can also use dedicated wood cleaners for this type of countertop. Avoid using harmful chemicals such as bleach and detergent as these chemicals may cause damage.
2. Concrete
Concrete countertops are relatively new as compared to the others in the market. Various innovations made them lightweight and ideal for your home.
Most of the time, concretes need proper sealing. Make sure that you use a gentle or neutral cleaner to avoid eroding the sealant. Microfiber cloths with dish soap and warm water will do the trick for you. Rinse and repeat while you work around the area.
Avoid putting hot objects on top of the concrete surfaces. The heat may cause discoloration to the sealant. Do not allow any spills and immediately wipe it up if there are any. Prevent the surface from getting wet with acidic substances like juice and vinegar since sealants may be affected. You should reapply concrete plasters if it has suffered enough damages.
3. Glass
Glass is one of the most versatile materials for making countertops. You can shape it in any way you want to make gorgeous designs. What's more, they are quite durable compared to others. However, they are dense and damage-prone.
When cleaning, prepare a mix of baking soda and water to remove stain marks. Use a sponge to scrub the stained surface and rinse it with warm water and smooth cloth. A mixture of mild soap and water is enough for the daily maintenance of glass countertops. You can also use a mix of 50:50 vinegar and water mixture.
Even though they are heat-resistant, use a trivet whenever you are laying down hot dishes or pans. Avoid putting them down on the surface for a long time to prevent any discoloration.
4. Granite
Granite countertops are aesthetic and add good value to your real estate investment. They are heat-resistant and heavy, which makes them very sturdy. However, granite is quite expensive and needs proper sealing to reduce stains.
Our pro-tip is making a paste from baking soda and water. Apply this on the surface using the fibrous part of your sponge. Never use mild soap as it's known to degrade your granite countertops over time.
Ensure that spills from acidic substances such as vinegar using a sponge and warm water are dried up. Use a pH-neutral cleaning agent that is specific for countertops made of stone. Apply it on a soft cloth and wipe the surface on a circular motion to clean the entire countertop.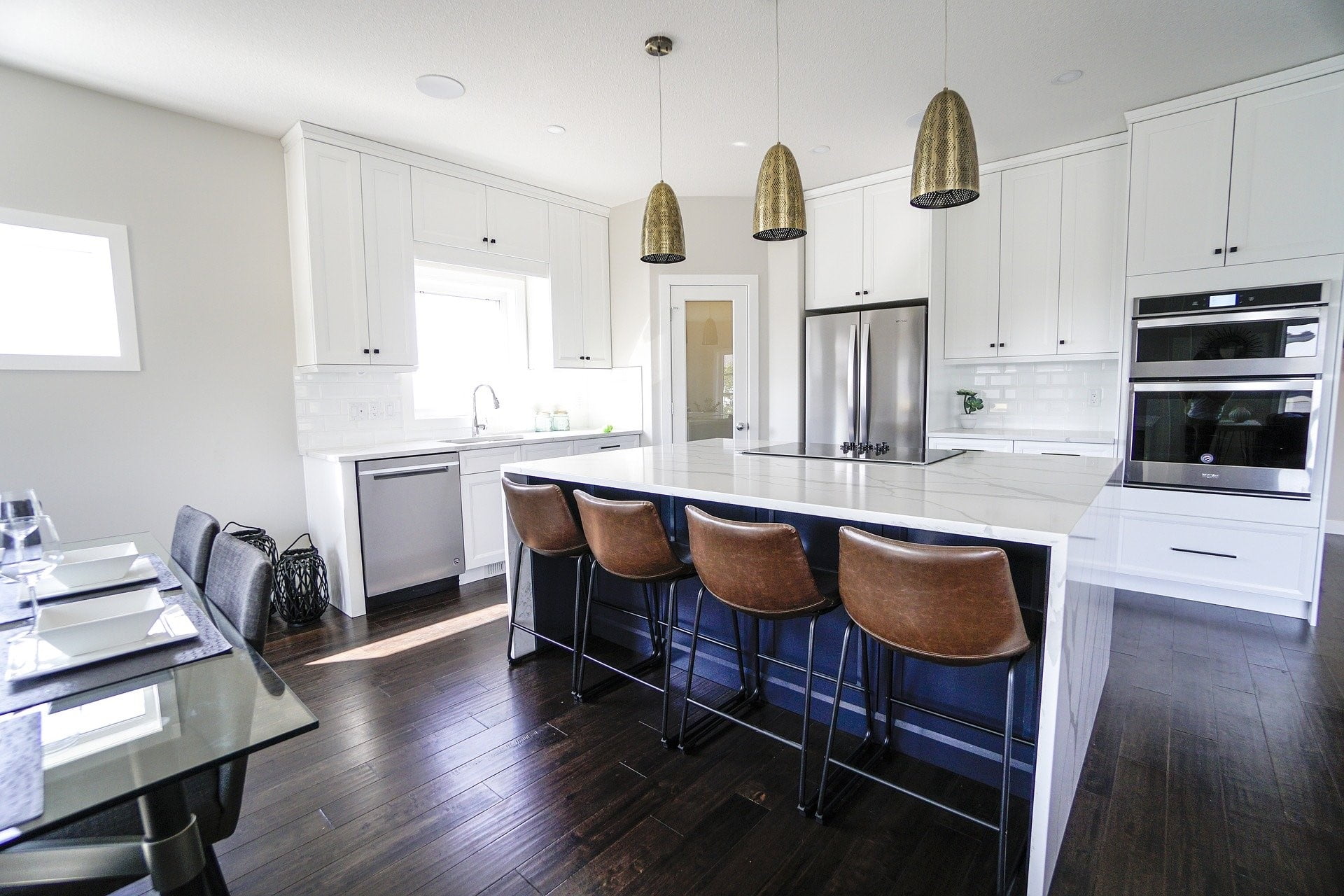 5. Laminate
Laminate countertops are popular nowadays. They are lightweight and quite cheap as compared to other types. The issue with this type of part is that they are prone to staining.
Our cleaning tip is to prepare a mixture of baking soda and vinegar whenever there is a stain. Put this paste on top of the stain and lay a damp paper to keep it moist. You may also use citrus oil with D-Limonene as a laminate stain remover. Apply carnauba wax every quarter of the year to maintain its scratch-resistant surface.
Avoid the use of abrasive cleaners and metal scrubbers since it can damage and scratch its soft surface. Do not put hot dishes on top of this countertop to prevent any scorching.
6. Marble
Marbles are similar to granite ones – they add value to your investment. Additionally, they are heavy, sturdy, and have great designs for your home aesthetic. However, these countertops easily stain.
Our ideal cleaning tip is to use a phosphate-free detergent with warm water and then scrub the surface with a sponge. For stain buildups, apply borax and then rub it with a soft sponge. Avoiding any moisture left is important since it may eventually damage the marble countertop.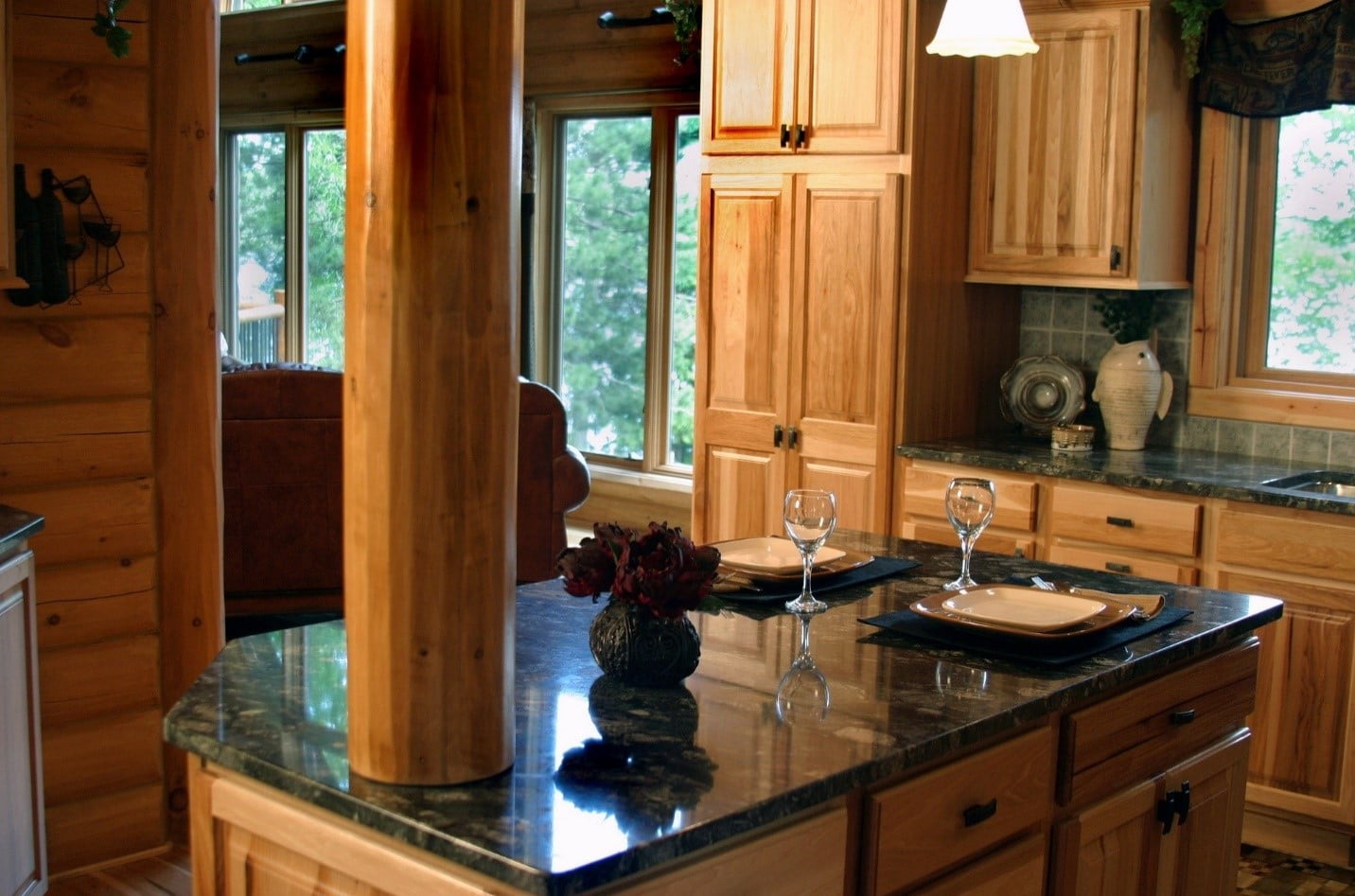 Just like granite countertops, dry up any spills of acidic substances such as wine, fruit juices, vinegar, coffee, and many more. Do not leave dishes on top of your marble countertops since oil can discolor marble. Avoid harsh cleaning agents such as ammonia and bleach. Stay away from rough cloths and sponges that needs replacement as cleaners since it may damage the surface as well.
7. Quartz
Quartz counters are gorgeous to look at, and they are durable. Another advantage of having them is that they are non-porous, so they don't require sealing. They are quite resistant to stains, but they can discolor when exposed to sunlight for a long time.
The usual mixture of mild soap and warm water is the go-to cleaning tip for this type. If you have white vinegar, mix it water and use it for daily cleaning. Make a paste with baking soda and water then apply it on the rough side of a sponge to remove any visible stains. Rinse it with warm water and wipe it with a soft cloth. They are quite sanitary, so antibacterial cleaners are not necessary.
Do not use strong cleaning agents, such as bleach that can discolor and damage the surface of your quartz countertop. Avoid exposing quartz to extreme heat, especially from dishes or cooking ware since it can discolor its surface.
8. Soapstone
The highlight of soapstone is that they are low-maintenance and fairly hardy. Additionally, they are non-porous, so you won't need any sealing for this countertop to resist stains. However, they have a softer nature, so we recommend avoiding damage from heavy pots and pans on its surface.
A combination of warm water and a mild soap is enough to clean this type of countertop. If there are food stains present, feel free to use abrasive cleaners. When there is a small scratch present, you can use worn-out sandpaper to rub the scratched part. This technique will flatten its surface. You also need to apply oil monthly to prevent the countertop from absorbing any moisture present.
Put away very sharp and hard objects that can easily scratch your countertop. Since it is also a stone, it prevents the absorption of any kind of moisture. It may dull its quality.
9. Stainless Steel
Stainless steel is durable, heat-resistant, rustproof, and pleasing to the eye. The drawbacks are that they are prone to water stain and can dent. They are also non-porous, and acidic chemicals will not damage its surface.
The best cleaning tip is to use strong white vinegar and apply it using a damp sponge and rub it thoroughly. Rinse the wet part and dry it well using a soft cloth. For hard-to-remove stains, use a mild stainless-steel cleaner. When cleaning spots, apply a glass cleaner and wipe it immediately with a soft sponge. Rinse it well with a microfiber cloth. Use a stainless-steel cleaner periodically to bring back its luster. If rust appears, try to use a non-abrasive solution or baking soda to remove it.
Put away harsh chemicals and abrasive cleaners that can damage and add permanent scratches to the stainless steel. Do not let any spills or leftovers to sit on the surface to avoid any stains.
10. Tile
You can see tiles in almost any household. They are cheap, lightweight, and have varied designs. However, they are quite flimsy and very susceptible to stains. This countertop is just one heavy pan or pot drop away from being broken or cracked.
When cleaning, apply baking soda on a damp sponge and wipe the surface of your counter. Rinse it with warm water and dry it with a soft cloth. To remove stains and grease, make a mixture of ¼ cup baking soda, a tablespoon of borax, and two tablespoons of mild soap.
Wet the tiles then rub the surface with the mixture using a nylon brush. Clean the spaces between them using baking soda and then lemon juice. Scrub it with a sturdy brush and then rinse it with warm water. Dry up the area to avoid any excess moisture.
Since the grout in between tiles is porous, avoid getting that part wet and do not allow moisture to build up. Immediately wipe away any spills with a soft cloth.
Spekless Cleaning Service
If all else fails, do not hesitate to seek our help! Save yourself from the worries of cleaning your home and Get An Instant Estimate Now!