5 Tips for a Thorough Post-Holiday Home Cleaning: Get Your Space Feeling Fresh and Organized Again
After the holidays, it's common for homes to feel cluttered and in need of a deep clean. Whether you hosted holiday gatherings or simply accumulated more mess over the weeks, tackling post-holiday home cleaning is crucial to get your space feeling fresh and organized again. While it may seem like a daunting task, breaking it down into smaller steps can make it more manageable. Here are five tips for getting your home back in order after the holiday season:
Start with the decorations. The first step in post-holiday home cleaning is to take down any holiday decorations and put them away neatly in storage bins. Not only will this make your home feel less cluttered, but it will also give you a sense of accomplishment. As you take down the decorations, make a list of any items that may need repair or replacement. This will help you stay organized and save time and money in the future.

Tackle the kitchen. The kitchen is likely the busiest room in the house during the holidays, and it can also be the most cluttered. Start by throwing away any spoiled food and recycling any packaging. Wipe down counters, appliances, and tables, and don't forget to clean the inside of the fridge and pantry. Consider decluttering your pantry by getting rid of expired or unused items. This will make it easier to find what you need and save space.

Deep clean the living room. After the holidays, the living room is often in need of a thorough cleaning. Vacuum and dust the space, paying special attention to any areas that may have accumulated extra dirt or debris over the holidays. Consider steam cleaning the couch and chairs to get them looking and smelling fresh. If you have hardwood floors, consider giving them a good mopping or buffing.



Wash all the linens. Strip the beds and wash all the bedding, towels, and any other linens that may have accumulated dirt or stains over the holidays. This is also a good time to rotate your mattress and launder your pillows. Consider investing in high-quality bedding and towels to make post-holiday home cleaning easier in the future.

Don't forget the outdoor spaces. The holiday season is often a time of excess, and that includes outdoor spaces like the porch and deck. Take a few minutes to sweep away any dirt or debris and tidy up any outdoor furniture. If you have a fireplace, now is a good time to clean out the chimney and get it ready for use.
By following these steps, you can effectively tackle post-holiday home cleaning and get your space feeling fresh and organized again. While it may seem like a lot of work, the sense of accomplishment you'll feel when you're finished is worth it. And if you don't have the time or energy to tackle this task on your own, consider hiring a professional home cleaning service to help. With a little elbow grease and a thorough approach, you'll be able to enjoy your home and start the new year off right.
12 Habits That Help You Maintain a Clean Home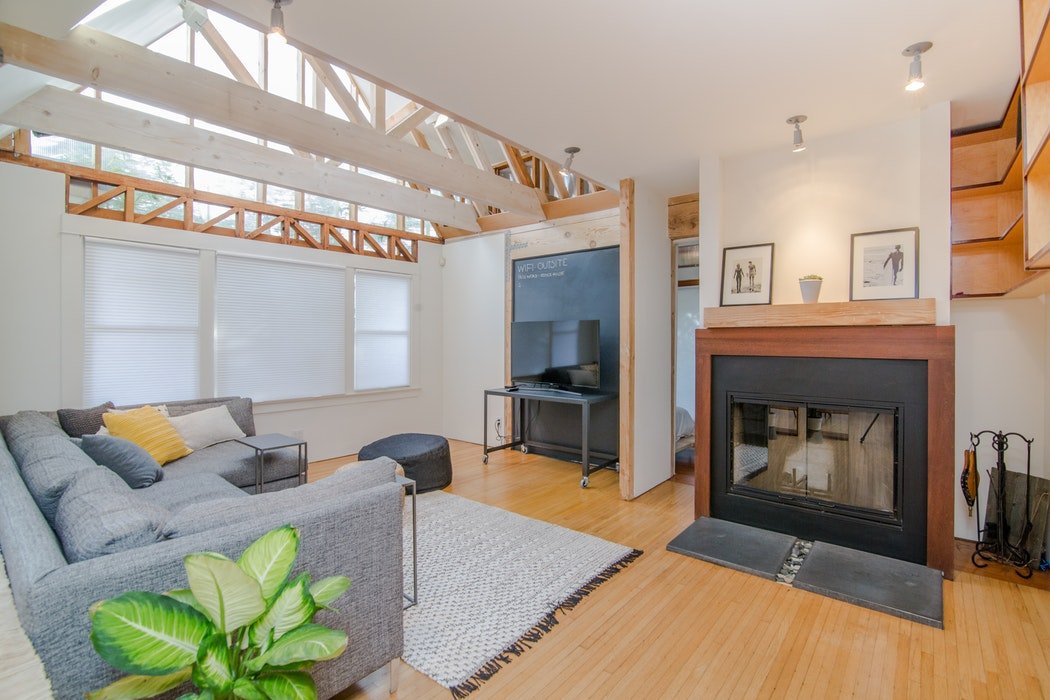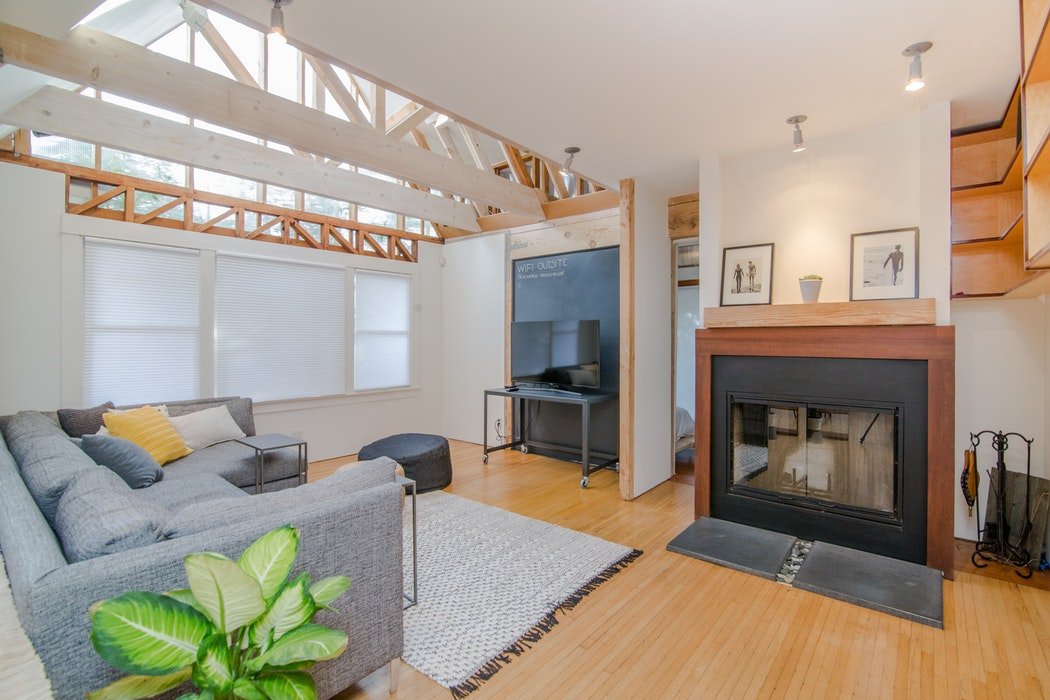 Have you ever wondered to yourself how some people always seem to maintain a clean home? They're so busy, yet their home is so clean. And some of them even have children running around it. It almost seems impossible. How do they do it?
If you're wondering that, you're also probably wondering how you, yourself can maintain a clean home. Well, you're in luck. Today we're discussing 12 habits to help you do just that. Because that's really what it's all about. It's less about maintaining a clean space and more about maintaining a good habitual routine. 
How to maintain a clean home
1. 
Making sure you put your laundry away when it's finished is a really important component to maintaining a clean home. Often times people who lead busy lives tend to get in the habit of leaving their clothes in the basket or in piles on the floor. But when you actually take the time to put your clothes away you give yourself an opportunity to build better habits and keep your space clean and clear of clutter.
2. 
One thing to do when you're trying to build better cleaning habits is to go through everything you have and organize. Make sure you only keep the things you absolutely need and discard the things you don't need. Marie Kondo creator of the KonMari Method explains a simple method of decluttering your life by removing the things that don't bring you any joy and only keeping the things that do.
3. 
A great way to maintain a clean home is by utilizing the paperless system. So often we see people with piles and piles of mail on the counters and checklists in their offices. The great thing about going paperless is that it works for almost everything these days and it's environmentally-friendly. You can set most of your mail to be paperless and you can organize your files online in a cloud-based storage platform like Dropbox. 
4. 
Have you ever noticed someone's home is so clean there isn't any dust? That's because they've mastered the art of weekly dusting. Getting into the habit of dusting your house weekly is the key to maintaining a clean home. Once you get into a routine, anything less just simply won't do. Put on some feel-good music and swifter as you go. 
Plus dusting your home on a weekly basis doesn't just keep your home clean, it also keeps the allergens away and increases proper airflow. If you or someone in your family suffers from allergies, dusting may be more beneficial than you think.
5. 
One sure fire way to ensure you maintain a clean home is to wipe down all household surfaces after each use. This is a fantastic habit for any homeowner to adopt. Keep disinfectant wipes in each room so that when you're finished with a task you can easily wipe and go. Of course, this may not be necessary for every single thing you, it's important to get in the habit of doing it.
You can also keep a can of environmentally-friendly disinfecting spray in certain rooms (like the bathroom) so that you can easily just spray and go. This will help you stop the spread of germs and diminish the growth of unwanted bacteria throughout your home.
6. Make your bed every day
Another great way to help you maintain a clean home is to get up and make your bed every single day. Making your bed is a good habit to adopt not just for the cleaning aspect of it but also for the mental aspect of it. When you get up and make your bed in the morning, there's a feeling of accomplishment that comes with it. A feeling of content and peace washes over you. It makes you feel like your life is together even when it's not. 
7. 
A lot of times when we come home from a long day at work, we get in the door toss our shoes to the side and throw our coat on the first couch we see. But taking just two extra seconds to put your shoes in a designated spot and hanging your coat in the closet or on a coat rack goes a long way. A good thing to remember here is aces in their places. When you put things in their place it doesn't leave room for clutter. 
8. 
When you walk into a well-maintained home one of the first things you may notice is that their sink probably isn't filled with dishes. It can be hard to want to do the dishes after a long draining work-filled day. Especially if you don't have a dishwasher in the house. But letting them pile up isn't the answer. Instead of letting the dishes overflow, wash the dishes as you go. 
Remember how we talked about wiping down surfaces as you go? The same principle can be applied to the dishes. When you're finished with a cup or a plate clean it. If you need to let something soak in hot water, fill it up immediately to let it soak so when you come back to it later you can rinse it and let it dry.
9. Create a chore list
A weekly chore list works regardless of whether you live alone or not. If you have a family or roommates, then that's great. You can split the list up evenly among the other people. But if you don't a chore list will help you hold yourself accountable for the things that need to get done around the house. And it serves as a great reminder. You can even have fun with your chore list and buy a printable off Etsy to help inspire you to to do your chores. 
10. 
It's really important when you're trying to maintain a clean and healthy environment, that you use the right products and chemicals around your house. There are some cleaning products that can actually do more harm than good. Certain products cause allergens, dust buildup, and damage to surfaces throughout your home. So when you're trying to keep a clean space, you really want to invest in products that are going to do the job well and keep you and your family safe at the same time.
11. Read cleaning blogs
Reading cleaning blogs are a fantastic way to maintain a clean home. Cleaning blogs (like the Spekless cleaning blog) are a great resource to inform and inspire you to get up and clean on a regular basis. You'll learn easy tips and tricks to help you clean faster and more efficient and ways to organize your home so that it looks better. 
The best part about reading cleaning blogs is that each one is different. Each blog offers a different outlook and a different perspective on cleaning. By doing this, you're able to see what works for you and what doesn't so that you can come up with a routine on your own. Which leads us to tip number 12. 
12. 
Last but not least on the list of tips to help you maintain a clean home we have dedicating your time to a weekly cleaning routine. Having a weekly cleaning routine is probably one of the easiest ways to keep up with the never-ending chore that is cleaning. And it's the easiest thing you can do.
Sometimes when people hear the word weekly, the think that their routine has to be this big elaborate scheme in order to clean their house. But that couldn't be further from the truth. Your weekly cleaning routine is something that should be tailored to you and your household. So if that means taking out the trash and dusting in one room then that's what you should do every week. 
But if your home requires a little more work there may be more do to. The good news about that is that when you do have a weekly routine, the cleaning isn't as bad as it would be if you would have waited. So essentially once you get into a routine it won't take you long to finish it. And if you do have a house full, you can pull out the cleaning chart and divide the chores among the family!
Tips & tricks to help you along the way
By adopting some of these habits you will be able to maintain a clean home. But not only will you be able to do that but you will also be able to reduce your daily stress level and increase your happiness. Studies show that having a clean house put you in a better mood and elevates feelings of depression.
Before we close here, there are a few extra tips & tricks we wanted to share in order to ensure your success. If you're having trouble adapting to some of these new cleaning habits you should:
Read books & blogs written by professionals who share their secret tips & tricks
Spekless House Cleaning
When you make cleaning the house a priority and not a chore, you'll not only maintain a clean home but you'll also get more things accomplished in less time. By getting into the groove of cleaning you'll begin to master the art of it so that you can spend more time doing what you love and less time scrubbing the toilet. It's really a win-win situation.
But here at Spekless House Cleaning, we understand that not everyone has the ability or the time to keep up on their house cleaning. There are some houses that just need help with it, and that's ok. That's where we come in.
Learn more about our cleaning professional and schedule your cleaning today.
How to Save Money on Cleaning Supplies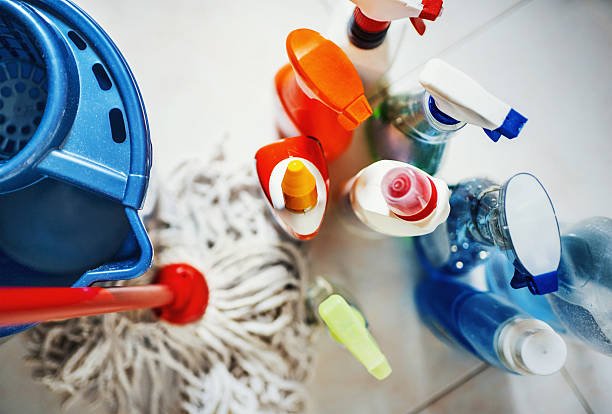 It's no secret that everyone loves to save money. But one of the questions people always ask is, "is it possible to save money on cleaning supplies? They're so expensive!" And the answer to that question, in short, is yes. You can save money on cleaning supplies.
We've got some tips and tricks to help you do just that so today we're lining out our hacks to help you save money on cleaning supplies and still end up with a clean house. 
If you use paper towel in your house, you may want to think about switching it out for some reusable cleaning cloths. According to AOL.com, the average American spends almost $200 per year on paper towel if not more depending on the size of the household. You can buy a bulk pack of microfiber cloths on Amazon (or at your local grocery store) for less than $10.
Microfiber cleaning cloths are great for cleaning nearly anything in your home. They work good on any surface and can be color coordinated by rooms, chore, person, and more. And when you're finished using them all you need to do is throw them in the laundry basket until it's time to wash them.
If you're one of those people who doesn't like to switch it up and you want to keep on using the same cleaning supplies you've been using, one way you can save money is by clipping coupons. Sign up for email newsletters for your favorite brand and wait for them to send you coupons directly to your inbox. 
Another thing you can do is look at sites like TheKrazyCouponLady, RetailMeNot, and Coupons.com for coupons to clip from all of your favorite products. Clipping coupons is a great way to save money on any household item especially cleaning products. 
These days there's a cleaning product for everything. The truth of the matter is that you don't need one cleaning product for your dusting and another one for your surfaces. So if you're really looking to save money on cleaning supplies and you have a lot of products under the sink, simplify your stash.
One of the best ways to save money on cleaning supplies in your home is to hire a housekeeper. Many companies provide you with a professional house cleaner and supplies to clean your house so that you don't have to.
Here at Spekless, it is our goal is to provide you with impeccable customer service. That includes having our professionals bring cleaning supplies to each and every visit. Hiring a professional can save you tons on cleaning supplies and allow you to free up some time to do what you love.
As you can see, there are a plethora of ways you can save money on cleaning supplies. From using products in your pantry to discounts and coupons on your favorite items, there's a way for everyone to save. 
When you modifying your cleaning habits and ensure that you are using the right amount of product, the results are astonishing. It proves that you can save time, money, and energy and still clean your home the way you like it.
8 Foods You Can Use to Clean Your House

Looking for a way to save time cleaning the house or a way to cut back on harsh chemicals? Instead of hitting the cleaning aisle at the grocery store, you might just want to stick with the grocery aisle. This is because you can actually clean your home using foods you already purchase. 
It doesn't take bleach or toxic chemicals in order for you to remove harmful bacteria from the surface of your house. In fact, some of the chemicals that you find in the cleaning aisle can actually do more harm to your home than good. So today we're discussing ways to clean your house using some of the foods you may already have in your pantry. 
Here are 8 different foods that can be used to clean your house. 
Baking soda can be used for many different tasks throughout your house including removing odor from the refrigerator and cleaning carpets. But aside from that, it can also be used to polish and whiten surfaces by creating a light paste and allowing it to sit for 30 minutes before wiping off. This paste works in places such as the bathtub, toilet, and sinks.
Baking soda also works well for removing odor-causing bacteria in shoes. Simply sprinkle some inside the soles of your shoes and let it absorb the bacteria before vacuuming it out.
Coffee grounds work as an excellent exfoliate for hard stuck-on food. The grainy texture of the coffee grounds removes gunk and debris from utensils, pots, and pans. Just take a handful of ground and scrub them into the surface before rinsing away to a clean surface.
Lemons are a natural disinfectant. Fresh lemon slices can be added to a homemade cleaning solution of 1 part vinegar 1 part water to create a fresh scent and help you get a better clean. They can also be used to remove odor in the garbage disposal and stuck on food in the microwave.
When cleaning the garbage disposal, cut up a few slices of lemon and place them inside to help kill any odor-causing bacteria that may be coming from it. Let them sit a while before turning it on and letting them run through.
When cleaning the microwave, take a microwave safe bowl and fill it up with water. Add a few lemon slices and microwave on high 3 to five minutes before easily wiping away and stuck-on food using a microfiber cloth.
Struggling to clean the bottom of your favorite vase for the next set of flowers to go in? Here's a great cleaning hack, clean it with a scoop of rice. Add a drop of soap, some warm water, and a scoop of uncooked grains into the bottom of it and swish it around. The edges of the uncooked rice will help scrub away the dirt and grime so your vase comes out clean every time.
You may know that table salt can be used to soak up red wine stains, but did you know it can also be used to clean brass? Just by combining white cleaning vinegar, a slice of lemon, and a teaspoon of table salt you can have your very own brass cleaner. This solution works well for cleaning non-lacquered brass knobs and handles without damaging them.
Olive oil is a great thing to keep in the kitchen. Not only is it great cook with but it's also great for helping you polish your stainless steel appliances. Just take a little bit of olive oil and dab it on a microfiber cloth and rub it into the stainless steel wiping with the grain. Using olive oil will help you get a nice clean finish on your stainless steel appliances while helping to prevent future watermarks.
Vinegar is one of the multiple purpose food sources that everyone should have in their pantry. It can be used for a variety of things throughout the house including but not limited to cleaning the counters, floors, bathrooms, and helping to kill unwanted odors.
Many people use vinegar as the basis of their own DIY surface cleaner. Take an empty spray bottle and fill it with one part water and one part vinegar. If you want to enhance the scent of your cleaner you can add a few drops of lemon, orange, or lavender essential oil which have their own antibacterial properties and will help you get a better clean.
Similar to vinegar, vodka can also use as a natural deodorizer to help kill order causing bacteria. But instead of using it around the house, use it to kill order directly on your clothing. Just take an empty spray bottle and add a little bit of vodka to it, then spray down the items you want to clean and hang them in a well-ventilated area. This hack works really well to remove body odor that may be trapped in a garment.
How to Spend Less Time Doing Your Laundry
When it comes to laundry many people can be easily divided up into two categories. There are people who take pride in doing their laundry and there are those who would give it up altogether if they could. Which type of person are you? Do you love doing laundry Or do you wish you could spend a little less time on it?
While we would love to be able to provide you with a magic wand and make it all disappear, we, unfortunately, don't have that kind of power. But what we can do is share some time-saving tips with you to help you spend less time doing your laundry. 
One of the best ways to spend less time doing laundry is to keep your dirty clothes in separate bins so you don't have to sort through them later. Have a designated basket for whites, darks, and colors. This way when you go to do your laundry all you need to do is empty the basket.
If you have a big household, or one with kids, doing one load of laundry each day will cut your actual laundry day in half. Just throw a load in and switch it when you can. 
Have you ever wondered how hiring a professional cleaning service could actually help you? Our trained professionals can help you save even more time. Here at Spekless we are dedicated to providing you with the utmost quality cleaning service in the area. Contact us today for a free estimate.