Airbnb Cleaning Services – Don't Hire Just Anyone

Airbnb hosting is a great way to supplement your annual housing income. It's a great way to meet new people and earn some money on the side. By hosting with Airbnb you are able to rent out a spare room, a shared space, and even entire apartment.
But hosting with Airbnb isn't as easy as it seems. Vacation hosts are often held to very high standards. Usually higher than a hotel. When it comes to vacation hosting, cleanliness is the number one determining factor in succeeding.
When looking for an Airbnb cleaning service you don't want a basic cleaning service. In other words, you want more than just your bathrooms, hallways, and countertops clean. You also want someone to make all of the beds with fresh linens.
If you are renting out a private or shared room you may not need a cleaning service to wash and put away the dishes for you (although it wouldn't hurt). But if you are renting out a studio or entire apartment this option should be apart of the package. Some host ask their guest to ensure that the dishes are taken care of before leaving the premises. While some hosts leave it to the cleaning company.
Running a busy vacation rental can get hectic. So hectic in fact, you might forget that you needed to stock up on toilet paper before your next guest arrives. Ask your cleaner to take inventory and leave you a note so that you know what needs to be restocked after each guest departs.
Some cleaning services will take care of the inventory for you for an extra fee. It doesn't hurt to check with them. Provided that you are willing to use their products instead of products you prefer.
As a rental host, you've got enough on your plate. You probably have a full-time job, a house of your own to worry about, and now tenants to clean up after. The last thing you want to do in your spare time is drive to your cleaning companies headquarters to submit your payment.
What are the Benefits of Using a Cleaning Service?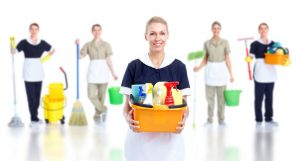 Are you thinking about hiring a cleaning service but not sure where to start? Are you wondering what the benefits of environmental cleaning entail? Here at Spekless, we want you to get the most out of your cleaning experience so we created a blog to help.
There are many good reasons to hire a cleaning service. For starters, they do the dirty work for you. No more getting down on your knees and scrubbing those hard to reach places. That's what you've hired us for.
Whether you're in a home, an office, a school, or a rental cleaning services can help.
Hiring a cleaning service allows you to:
By delegating our daily and weekly chores to a cleaning service, we have more time to focus on what truly matters. Often times we stress ourselves out about things that we don't need to worry about. Cleaning is one of those things. Just think about how much time and energy you'll save by hiring a cleaner to do the work for you. I'll give you a hint: It's a lot.
When you use a cleaning service, whether it be in your workplace or your home, you have more time to focus on the things that you need to accomplish. You can be more productive and accomplish more when you know the house is being taken care of.  Maybe you have errands to run, kids to tend to, or work to focus on.
Allowing a cleaner into your spaces effectively allows you to focus your attention on those things. Then you can prioritize better and ultimately become more productive on a day to day basis.
A lot of the time when we clean on our own we miss those hard to reach places. Those places that are often filled with dust and spider webs. We generally don't even think about them. If we can't see them, we don't worry about them.
A cleaner will take care of these places for you. And they'll do it every cleaning. No need to worry about the dust mites building up again.
Most cleaning companies come fully equipped with their own products and supplies. Some of them don't but that's very rare. Which is why it's important to do your research before hiring a cleaning company. Nonetheless, you won't have to worry about keeping cleaning supplies in the cabinet (except for items like dish soap, hand soap, and Windext).
Each time your cleaner arrives they will be fully prepared to clean your home, office, or rental. And any other space that needs it. Cleaners typically come with vacuums, cleaning rags, disinfectant, bathroom cleaner, dusters, and even trash bags.
We've talked about how cleaning services help you save time and money but they also help you save energy. Let's be honest, cleaning can take a lot out of you. If you're anything like me, you might think you need a nap afterward. In order to savor every last bit of energy you have left, why not have someone do the work for you?
How your Business can Benefit from Commercial Cleaning Services
More often than not our workspaces become like a second home to us. Our lives are so busy we live, sleep, and breathe work. But with so many people in and out all day, it's tough to give your office the cleaning that it needs and focus on your work at the same time. And since cleanliness in the workspace is ranked as one of the lowest priorities among employees it's probably best to consider hiring a professional.
Here are our top three reasons to hire a commercial cleaning company:
Commercial offices are a breeding frenzy for germs and bacteria. Though workers may periodically sanitize their workstations they probably aren't giving it the proper cleaning and sanitation that it needs. Hiring a professional commercial cleaner allows you to create a safe and sanitary work environment for every employee by routinely cleaning your office.
When you outsource cleaning to professional it takes some of the stress off of your employees. If an employee doesn't have to worry about cleaning the bathroom and completing their assignments at the same time they can focus better. Studies show that cleaner workplaces ultimately leads to happier and more productive workplaces.
And Look More Presentable
As humans, we often associate cleanliness with professionalism. If a customer walks into a business that's full of clutter and dust they will perceive that business as being unprofessional. Whether you need help organizing, cleaning the bathrooms, or picking up the parking lot a commercial cleaner can help.