Best Bathtub Cleaning Tips | Hacks For Cleaning your Bathtub
Cleaning your bathtub shouldn't be a stressful process; learn more about why and how you should keep your bathtub clean with our 6 easy steps on cleaning your bathtub today!

The Best Way to Clean Your Bathtub In 6 Easy Steps
So, you've decided to clean your bathtub. Awesome! After all, nobody wants to take a relaxing bath in a tub full of soap scum, dirt, body oils, or worse. Cleaning your bathtub shouldn't be complicated, but if you're not sure where to begin, the experts at Spekless are here with our top tips and hacks on the best ways to clean your tub today!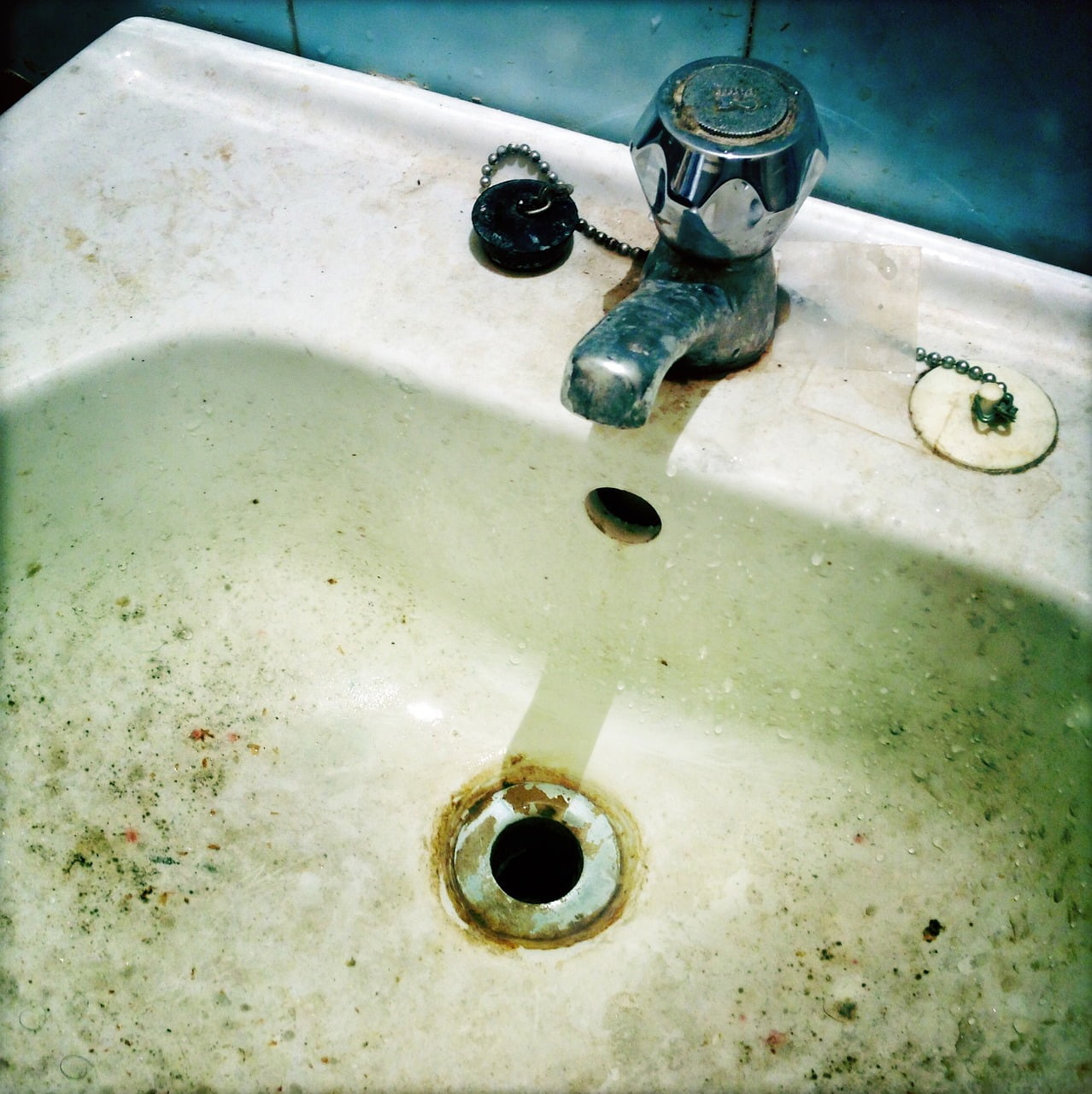 Our Top 6 Tips for Cleaning Your Bathtub
1. Get your products and materials. Unsure which products to use? There's no one-size-fits-all solution for bathtubs, so you should go with a manufacturer recommended product or cleaning products designed for your tub. However, virtually limitless options can make it harder to choose, so here are some of our favorite bathtub cleaning products.

One versatile brand that we love here at Spekless is Bar Keepers Friends. Our favorite is the Soft Cleanser, which is perfect for bathtubs and will quickly get rid of scum, rust, and build-ups without leaving any streaks. Paired with a microfiber cloth, cleaning your bathtub will never have been easier! If you prefer a powdered form, grab their original Cleanser (developed back in 1882!). To use it, wet your bathtub, then sprinkle on a little bit of the Cleanser and wait. Rub it with a sponge, then rinse it off and dry.

Another product perfect for cleaning your bathtub would be the Mr. Clean Magic Eraser (ideally the Extra Durable formation). One of the benefits of Mr. Clean is that you don't need anything besides the Magic Eraser and water to get your tub clean: simply wet the sponge, squeeze out any extra water, and start scrubbing—the Magic Eraser will do the rest. However, depending on how dirty your tub is, you may not be up to scrubbing the entirety of it for several minutes.

Finally, if you're looking for a budget cleaning product or simply prefer a more natural cleaning alternative, all you need to do is grab a spray bottle and fill it with an equal solution of 1-part vinegar to 1-part dish soap (we prefer Dawn!). If you're not a huge fan of the smell of vinegar, you can mask the smell with a few drops of your favorite essential oil (such as lavender).

Make sure you scrubbers that have metal parts, as many bathtubs could be sensitive to them, leaving permanent scratches. When possible, use a sponge or cleaning cloth, as well as a soft cleaning brush. If possible, invest in a grout brush to get rid of more stubborn stains, and pick up a bottle tile cleaner as well.

Finally, wear gloves to avoid exposing your hands to harsher chemicals, and make sure to open your window or get some ventilation if possible so you don't breathe in all the cleaning chemicals!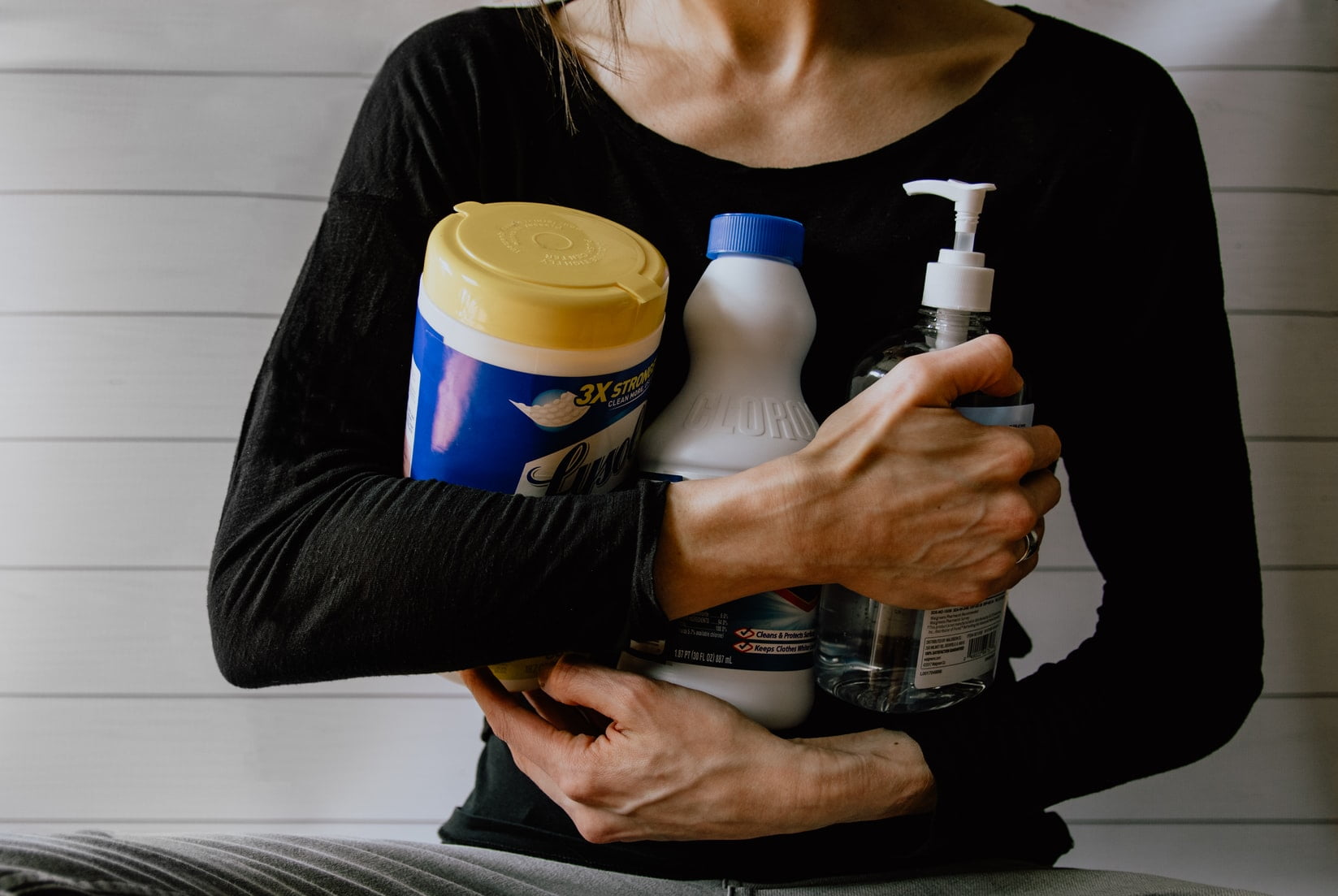 2. Empty your bathtub and clean the surround. First things first, take everything out of your bath tub—and that means everything from kids' toys to loofahs! Wipe down anything that might have soap scum built up, and then place them elsewhere while you clean.

To get started, you should deep clean the walls and tiles around your bathtub. With either a general cleaner or special cleaner and a cloth, buff your walls to eliminate any soap scum, dirt, or other debris on your wall. For tiles, just use a tile cleaner and sponge (or cloth!). During your deep clean, use a grout brush and bleach—as long as you have plenty of ventilation. Once you're done, give your walls and tiles a good rinse using clean water to get rid of any residue, and the first step is done!

3. Make sure your drain works properly. Before you get down and dirty with cleaning your bathtub, you should be sure that your drain isn't clogged. All you need to do is pour around a half cup of baking soda down the drain, followed by half a cup of white vinegar. After waiting for about 5 minutes for the bubbling to reduce, flush it out with about 30 seconds of hot water. For best results, repeat monthly.

4. Clean the interior. Next, apply or spray your preferred cleaner onto your tub and let it sit for at least 10 minutes. You can use any of the products we mentioned earlier, or whichever cleaner you prefer the most. After you're done waiting, wipe down your tub with a cloth and rinse thoroughly.

5. Get rid of soap scum and stains. It's not uncommon to have several stains remain after you're done with a superficial clean. For soap scum, you can use a gentle cleaning brush, or just grab an old toothbrush you aren't using to scrub them away.

If you have tougher stains that you need to get rid of, you can use a scrub brush and a special cleanser and scrub away for a while longer. Alternatively, mix equal parts vinegar and warm water, spray it on the stains, and then sprinkle on some baking soda. After it stops bubbling, scrub with a sponge, wait a few more minutes, then wipe it off and rinse thoroughly. If necessary, repeat again.

6. Rinse and wipe down. After everything has been fully rinsed, dry off your bathtub and buff it with a clean towel, making sure to not leave any excess water behind. Leave your window and/or ventilation open for at least a half hour to clear out any unwanted odors of cleaning fluids, and if you feel like it, add an air freshener or incense stick to make your bathroom smell more natural. Voila!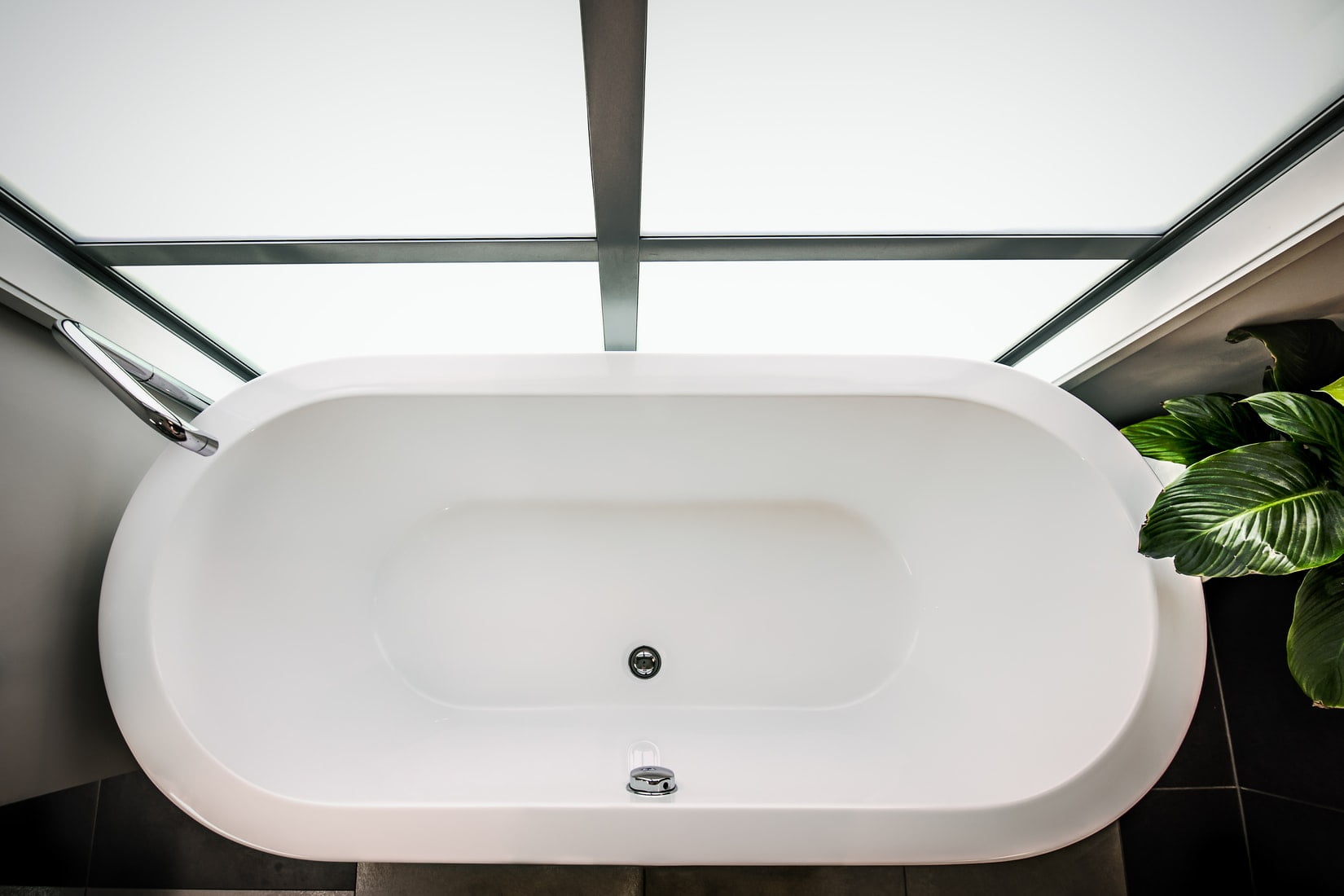 Extra Hacks For Cleaning Your Bathtub (And Keeping It Clean!)
Do you have a tougher stain that you're having trouble getting rid of? Usually, there's no need to buy expensive, specialized products! Our go-to DIY recipe is to make a paste of 1-part hydrogen peroxide to 2 parts baking soda. Then, apply the paste to your stain for at least 30 minutes—so you'll want to do this at the end of the cleaning process. Wipe the stain and rinse gently. If it's still not fully gone, repeat once more.
Not sure how often you should clean your bathtub? This depends entirely on how often you use it. If you have a shower/tub combo that you shower in daily, we'd recommend a routine clean weekly, with a deep clean monthly. If your tub is separate and you only use it for special occasions, just wipe it down after each use (see our last hack in this section!) and give it a routine clean on a monthly basis. However, if you notice water stains, rust, mold, or mildew forming, bring out the cleaning ingredients ASAP.
Don't mix cleaning products! Bleach and ammonia, when combined, will create highly dangerous and toxic chlorine gas. Even small amounts can cause skin, eye, and respiratory irritation, while larger amounts are fatal. (In fact, chlorine gas was used during both World Wars.) Generally, avoid having too many cleaning products in your rotation: one or two products is usually all that you'll need, and make sure to keep the place well ventilated!
Want to avoid having to clean your bathtub so often? Easy! Make sure you thoroughly rinse the surface of you tub after a bath so that no soap stays behind, and get rid of extra moisture to prevent unnecessary buildup of substances like soap scum or mildew. To do so, simply wipe down your tub to make sure it's fully dry. Use a clean, dry cloth (preferably microfiber), and don't reuse it again. If possible, open your window to get rid of extra humidity.
And that's it! With our tips and hacks on how to best clean your bathtub, we're pretty confident that keeping your bathtub clean has never been this easier, no matter how often you use it!

Why Should You Clean Your Bathtub, Anyways?
If we're honest, nobody's super excited about having to clean their bathtub. Here's the deal: failing to regularly deep clean your bathtub can lead to lots of health hazards, including:

Mildew and mold: Not only do these spores and fungi look gross, they can pose health risks! Mold thrives on warm, damp places high in humidity (in other words, your bathroom), and while a little bit of it isn't dangerous, this can quickly lead to rotting fabric or permanent stains on your tub and other bathroom fixtures! Additionally, many people are either sensitive or allergic to mold, which could lead to symptoms such as skin rashes, coughing, hives, and even respiratory issues such as asthma attacks for those more seriously affected.
Infections: If there's one place in your room that's home to countless bacteria, it's your bathroom. From using the toilet to brushing your teeth to taking a shower, you easily contribute to the spread of bacteria inside it. In fact, if you have a shower curtain for your bathtub, your shower curtain and shower floor could have as much as 60 times the amount of bacteria your toilet seat has! And with thousands of bacteria thriving in your dirty bathtub, you could easily transfer the bacteria to open cuts, sores, or wounds, which could cause a staph infection.
Soap scums: Sure, soap is great while you're taking a shower or drawing up a bath, but what about after? Not properly rinsing out your tub could lead to film developing in your tub, or even on your shower curtain or walls. Over time, the build-up, together with mold and mildew, lead to nasty stains and smells.
Finally, if you aren't cleaning your bathtub, you're probably not cleaning the other parts of your bathroom. From the sink to your cabinets to your toilet, your bathroom should be cleaned regularly. So once you start with our easy tips on cleaning your tub, why not keep the rest of your bathroom sparkly clean?

Spekless House Cleaning for Your Bathtub
Now that you can get into the habit of cleaning your bathtub, it's easy to just move on to other parts of your bathroom and keep them spick-and-span. However, at Spekless, we completely understand that not everyone has the time, energy, or willingness to dedicate so much time to cleaning. Maybe you're not sure which cleaning products are best to deep clean your bathtub. Perhaps you'd rather dedicate one day to cleaning your studio apartment or home but just don't have time. Or maybe you simply suffer from aches or pains, making it harder to clean up after yourself. Whatever it is, we completely understand where you're coming from.

That's why Spekless offers custom-tailored, 100% flexible deep cleaning services so you can have a fully clean house without having to do the work yourself! Whether you need your bathtub and bathroom cleaned weekly, bi-weekly, monthly, or bi-monthly, our professional deep cleaners will work around the schedule to give you the clean bathtub you deserve.

To learn more about our professional cleaning services, get in touch today!