How to Deep Clean Your Laundry Room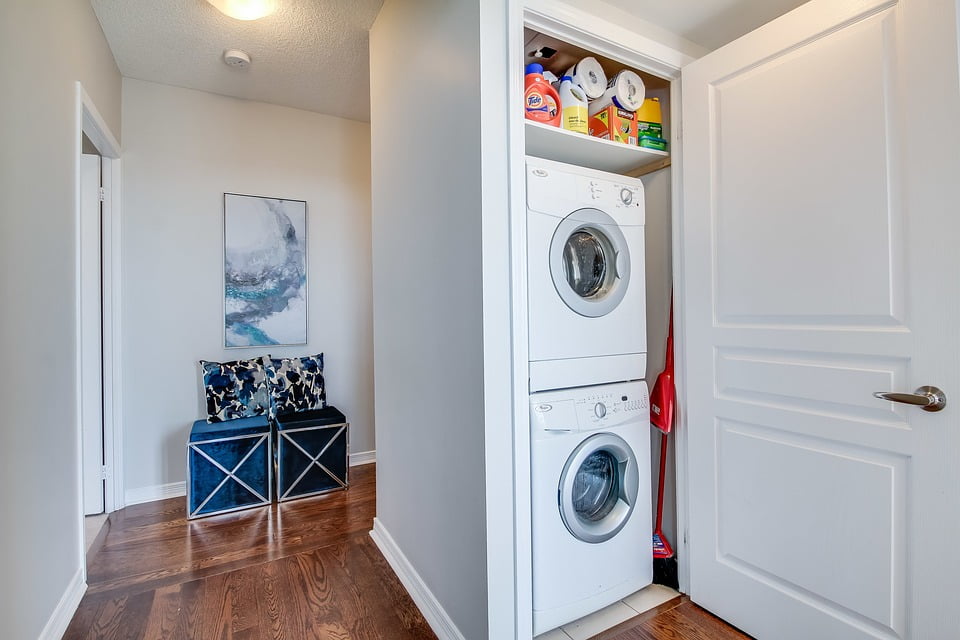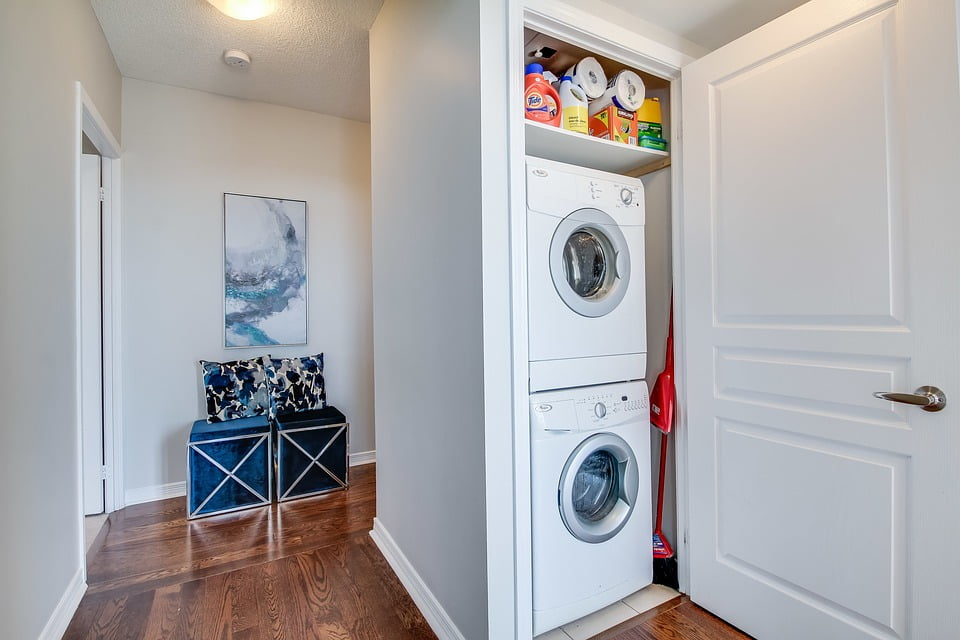 Today we're back with another cleaning checklist and today's room is none other than the laundry room. We'll walk you through each and every part of your laundry room and show you how to give it a nice deep clean.
How to Deep Clean Your Laundry Room
The very first thing you want to do before entering into any deep clean is to take your swifter and dust the room from top to bottom. Start in the corners and work your way around the room to ensure that you get rid of any lingering cobwebs and dust.
Look for dust behind the washer and dryer, under the washer and dryer, near the window or windows, covering the baseboards, and on top of a ceiling fan if you have one.. Laundry rooms can get pretty dusty even when tended to on a regular basis.
When you go to clean your laundry room it can seem like there isn't that much to do because of your washer and dryer. But those need to be cleaned too. You can start by taking a cup of vinegar and a cup of baking soda and run it through your washing machine. 
Similar to the washer you'll also want to wipe down the outside of your dryer. You can do this using the same soap and water you used to wipe down the washing machine. Instead of running the drying using vinegar and baking soda you can wipe it out with your damp soapy rag. 
After you've wiped your dryer inside and out be sure to check and see if the lint trap needs to be emptied. If you happen to see a buildup of wax on the trap simply take it out and wash it in the sink. Sometimes fabric softener can cause a buildup of wax on the trap preventing it from doing its job to the fullest. 
Pro Tip: Make sure you get behind both the washer and the dryer. Take your swifter back there and get the dust and then stick the vacuum back there to suck up any loose debris. 
Now it's time to deep clean all the surfaces in your laundry room. If you do happen to have countertops in your laundry room go ahead and spray them down using a multi-surface cleaner and let it sit for 2 to 4 minutes.
Once the solution has had some time to do its magic you can go ahead and wipe them off checking at eye level to see if there's anything you missed. During this step, you can also go ahead and spray anything else your hands may touch including doorknobs and drawer handles.
Some laundry rooms have a sink in them. If your laundry room has a sink it in, it's time to clean that next. Spray the sink out with vinegar (or alternatively bleach) and let it sit for a few minutes before scrubbing it out. 
If there's an outside to your sink and it's not sitting in a cabinet, be sure to wipe that part too. When you're finished wiping the sink inside and out take a dry microfiber cloth and shine the faucet and handles. 
Another thing you really want to make sure you give a deep cleaning to in your laundry room is your cabinets. Cabinets are often the most neglected thing in a room yet sometimes they can be the dirtiest. Aside from opening them up and touching the handles, cabinets tend to get dirty with dust, things splashing on them, and outside debris blowing in from an open window. 

Pro Tip: Coffee filters and vinegar works wonders on windows!
Deep cleaning your vents is very important. Especially in the laundry room. First, you'll want to take your swifter to them and get as much dirt and dust off as possible. Then you can take your vacuum (and the brush attachment) and run it over the vents to get the rest.
If your vents are reachable by hand you may even want to consider taking your cleaning cloth to them along with some dish soap and warm water. 
As we reach the end of our laundry room cleaning checklist, we have everyone's least favorite thing to clean – the baseboards. When done right, the baseboards can be an easy task to accomplish. Once you give them a good deep clean the less you'll have to clean them in the long run.
Take your swifter all the way around them to get all of the dust off. Then grab a small bowl and fill it with warm water and dish soap. Using your microfiber cleaning cloth, take the rag and wipe down all the baseboards in your laundry room. 
The floors
If you made it this far then congratulations! We've made it to the last task on our checklist, the floors. Deep cleaning the floors is similar to cleaning the cabinets. The solution you'll use for the floors depends on the type of floors you have in your laundry room.
Looking for more cleaning tips? Here are 12 habits that will help you maintain a clean home.
By giving the rooms in your home a nice deep clean, you're giving yourself the opportunity to build new habits that can help you create and maintain a clean environment. Studies show that having a clean house put you in a better mood and elevates feelings of depression while reducing your daily stress level and increase your happiness.
Before we close here, there are a few extra tips & tricks we wanted to share to help you clean your laundry room better. When deep cleaning your laundry room it's helpful to know that:
By making deep cleaning your laundry room a priority and not a chore, you'll not only maintain a clean laundry room but you'll also get more things accomplished in less time. By getting into the groove of cleaning you'll begin to master the art of it so that you can spend more time doing what you love and less time scrubbing the toilet. It's really a win-win situation.
Here at Spekless House Cleaning, we understand that not everyone has the ability or the time to keep up on their house cleaning. Or their deep cleaning. There are some houses that just need help with it, and that's ok. That's where we come in.
Our professional house cleaners are able to provide you with a routine house cleaning to help get all of your chores done without lifting a finger. We work with you to create a flexible cleaning schedule to work around the needs of your household. By providing optional bi-monthly, monthly, bi-weekly, and weekly cleaning schedules we give you exactly what you need to achieve a clean laundry room.